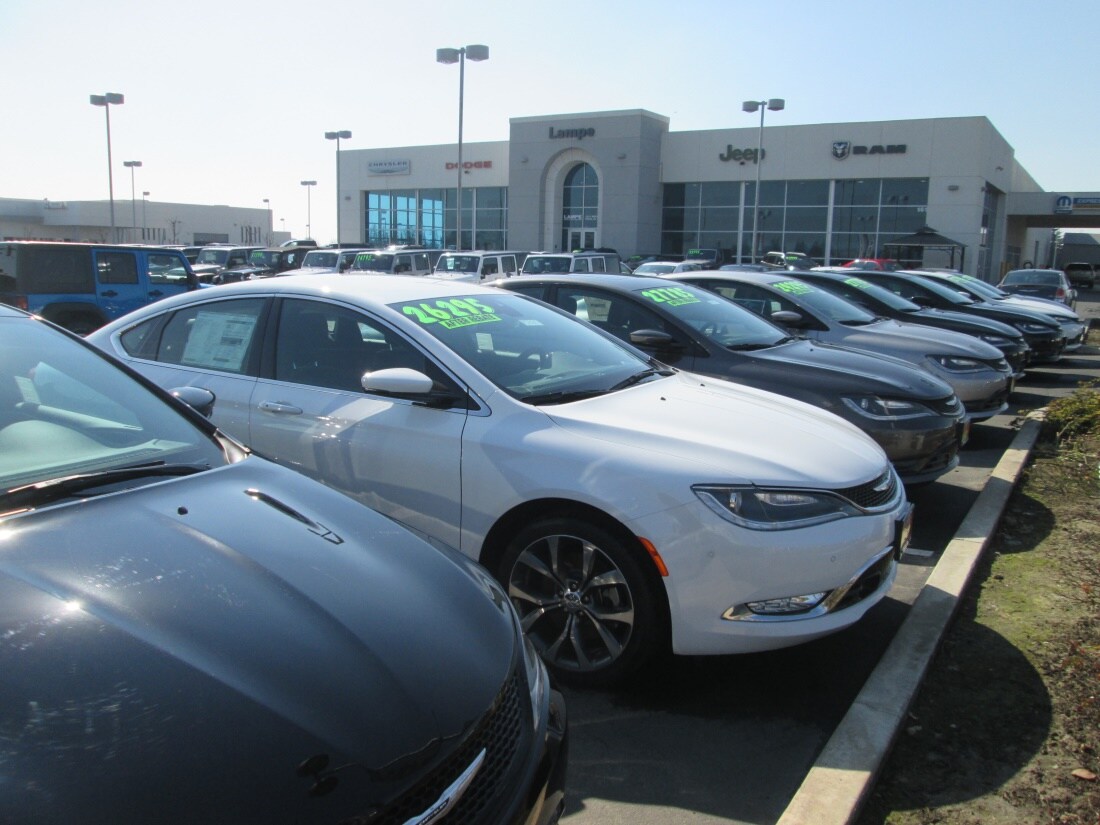 The thrill of getting a new car can be exhilarating: seeing all of the stylish vehicles with their enticingly sleek profiles, luxurious interiors, and all those advanced technological features that you don't really need, but want more than anything. Plus, a new car always brings about the prospect of new adventures and opportunities waiting just around the corner. However, purchasing a car can also be very nerve-wracking, especially for first-time buyers who aren't familiar with the process. To help relieve your stress, we at Lampe Chrysler Dodge Jeep Ram have come up with a few tips to help keep your stress to a minimum and make your first car buying experience more exciting than overwhelming.
1. Know Your Budget
Keeping up on your finances is always smart, but when you're planning to make a huge purchase, like a car, it's even more important to be aware of how much you have and what you can afford. When it comes to your car, the easiest way to do this is to figure out your target monthly payment. This is basically the amount of money you're willing to spend on your car payment each month without busting your budget. Experts recommend you keep this number under 20% of your monthly income after taxes. This should leave you sufficient room for your other living expenses, like mortgage, rent, and other bills. Keep in mind however, that this target monthly payment is strictly for the car purchase and loan payment, it does not take into account fuel costs, insurance, or maintenance for the car. Once you know your credit, you can start looking into the type of loans that would be best for you. If you have any financial questions or would like to know more about the types of loans or available for you, feel free to
contact our Finance Center
. Our friendly and knowledgeable staff are more than willing to help.
2. Distinguish Your Wants From Your Needs
When it comes to new cars, it's common to be drawn to the best looking vehicle with the most powerful engine and the fanciest features. But do you really need all that horsepower and that highly advanced entertainment system? Sure, everyone might want them, but not everyone can afford them. So, ask yourself what you need from your car, and stick to those criteria. If you're living in
Visalia
, for example, but need to travel to Fresno every day for work, then look for a car with good MPG. Do you have kids that need to be driven to soccer practice or band rehearsal a few times a week, along with their friends and all their gear? Then the
2016 Jeep Grand Cherokee
, with its high safety rating, flexible storage capacity, and affordable price, might be the car for you. It's important that you make sure you are honest and realistic with what you need, and that you keep your budget in mind. However, if it turns out you can afford to pay for the upgraded trim with remote Keyless Entry and Uconnect
®
Voice Command, then go for it!
3. Research, Research, Research
Everyone knows the adage, knowledge is power, right? Well, in car buying that saying is extremely relevant. Research is key to getting the best car at the best price. Once you know your target monthly payment and have decided on the type of vehicle you're looking for, it's time to narrow down your choices and see what cars are available in your price range. There are tons of amazing resources out there that offer reviews and ratings of every car on the market, and utilizing them will really help you. So make sure you do your homework to find out what both the experts and consumers are saying about any car you are interested in, and use it to make a smarter, more informed decision.
4. Make the Most of the Test Drive
Once you've narrowed your choices down and have a few cars in mind that would best fit your needs and budget, it's now time to test them out. Test driving is important because, sure, the car may look perfect for you on paper, but you never really know until you see it for yourself and drive it firsthand. Before the drive, sit in the car and make sure you feel comfortable. Is there enough headspace and legroom? Are the instruments and gauges easy to read? Do you have clear visibility in the rearview and side mirrors? What about the pedals and steering wheel? Are they positioned in a way that will make driving difficult for you? Once you start the actual driving portion of the test, make sure you pay attention to the car's acceleration, braking, steering, suspension, and noise. Once you find the car that satisfies you in all these categories, it may be time to talk to a salesman for the next step in car buying process.
5. Don't Be Scared to Negotiate
Now that you've settled on the car you want, it's time to talk price. This is a good time to make use of all the research you've done previously. If you know what the car is worth and how much other dealers are asking, you'll know if the price on the sticker is fair or not. Let the salesperson know you've shopped around and are familiar with the numbers behind the deal. Once they know that you know your stuff and are serious about purchasing the vehicle, they'll be more willing to negotiate to a lower, yet still reasonable price. At
Lampe Chrysler Dodge Jeep Ram
, we strive to establish an honest, trusting relationship with all our customers, by providing excellent service and fair prices. So if you have any questions about pricing or financing, please feel free to
contact us
.
6. Enjoy Your New Car!
Finally, after all of the budgeting, research, testing, and negotiating, it's now time for the last step in the car buying process: actually buying the car. After signing a stack of papers and being informed about everything you need to know about your car, that's it. You are now a first-time car owner, congratulations! Hopefully, after following all these tips, you should now have the car you want at a price you can afford, so go ahead and enjoy it!